The Right Recipe for Weight Loss
Shaw's Osco Pharmacy

/

Dec 10th, 2018
Eating Well Plus Exercise: the Right Recipe for Weight Loss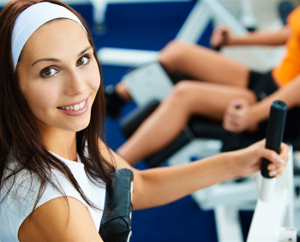 Women who were overweight or obese were not able to keep from gaining weight by exercising alone
Physical exercise is essential for maintaining a healthy heart and for preventing disease—but if you're overweight, you may need to do more than stay active to keep from gaining more weight, says a study in the Journal of the American Medical Association.
How much exercise is enough?
The recommended amounts of exercise vary from group to group, so figuring out how much you need can be tricky. The 2008 US federal recommendation is at least 150 minutes of moderate-intensity physical activity per week in order to obtain "substantial health benefits." The Institute of Medicine recommends almost three times this amount—420 minutes per week, or 60 minutes per day.
The new study asked a different question: How much exercise prevents weight gain? Using information drawn from more than 34,000 women who took part in the Women's Health Study over a 15-year period, researchers measured the amount of exercise that the women were doing and how much weight they gained over the years.
The women were grouped into three exercising categories:
those who got less than 150 minutes of physical activity per week,
those who exercised between 150 and 420 minutes per week, and
those who got more than 420 minutes of activity per week.
Those in the groups who exercised less than 420 minutes per week gained similar amounts of weight, and higher levels of physical activity only seemed to protect thinner women from gaining weight. Women who were overweight or obese were not able to keep from gaining weight by exercising alone. Since only those women of normal weight were able to keep the pounds off with exercise, the importance of controlling caloric intake is essential for weight maintenance in heavier women.
"The 2008 federal recommendation for 150 minutes per week, while clearly sufficient to lower the risks of chronic diseases, is insufficient for weight gain prevention." they concluded. "Sustaining high levels of physical activity is needed to successfully maintain normal BMI [body mass index] and prevent weight gain," said the researchers. Since only those women of normal weight were able to keep the pounds off with exercise, the importance of altering the diet to help reduce caloric intake is essential for weight maintenance in heavier women.
Feel fit for life
So why bother exercising if it's not going to help keep the pounds off? For many people, exercise is a vital part of a weight-loss program, enabling them to lose more than they could by dieting alone. And maintaining or losing weight is just one of the many benefits that exercise confers. Even if you are overweight, exercise:
Improves insulin sensitivity, keeping blood sugar levels in check.
Lowers your risk of many chronic diseases, like cancer, heart disease, and diabetes.
Reduces blood pressure.
Helps maintain healthy circulation.
Strengthens muscles and bones, reducing the chances of falling and suffering a fracture.
Lifts your mood.
Get back to basics
Some exercise is better than none at all. So make a commitment to your health and get moving whenever you can. If you need to shed a few pounds, try these tips:
Swap out the sugary drinks. Soda, coffee, and juice can add extra calories to your diet. Replace them with water, sparkling water, or green or herbals teas.
Fill up with water. Drink a glass of water 20 minutes before a meal and you'll be less likely to overeat.
Munch on this. Start a meal with a plate of cut-up veggies to satisfy your urge to crunch.
(JAMA 2010;303:1173–9)
Kimberly Beauchamp, ND, earned her bachelor's degree from the University of Rhode Island and her Doctorate of Naturopathic Medicine from Bastyr University in Kenmore, WA. She cofounded South County Naturopaths in Wakefield, RI, and now sees patients in East Greenwich and Wakefield. Inspired by her passion for healthful eating and her own young daughters, Dr. Beauchamp is currently writing a book about optimizing children's health through better nutrition.