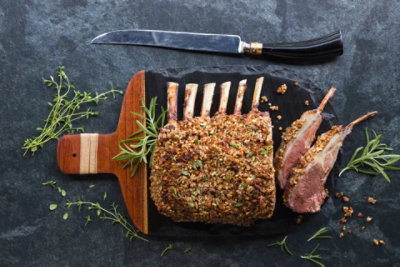 Apricot Pecan Rack of Lamb
Warm up this fall and winter with this perfectly-seasoned rack of lamb, ready in just over 30 minutes. With autumn-inspired ingredients, this recipe is well balanced with both sweet and savory flavors from apricot preserves and pecans.
Total original price
* Estimated price based on adding all ingredients to cart.
Main Ingredients
2 racks of lamb
1/2 teaspoon kosher salt
1/4 teaspoon ground black pepper
1/4 cup apricot preserves
1/8 cup mayonnaise
2 teaspoons Dijon mustard
2 teaspoons minced garlic
1/2 teaspoon lightly-minced thyme leaves
1/2 teaspoon minced rosemary
2 cups finely-chopped pecans
Cooking Instructions
Step 1
Season lamb with salt and pepper. Set aside.
Step 2
Whisk to combine apricot preserves, mayonnaise, Dijon, garlic, thyme and rosemary. Brush lamb with apricot sauce and roll in pecans, pressing the pecans into the sides. Let rest at room temperature for 1 hour.
Step 3
Preheat oven to 400°. Cook for 15 minutes. Rotate baking sheet 180°. Cook an additional 15-20 minutes or internal temperature is 140° is reached for medium rare. Let rest 10 minutes. Cut and serve.
Step 4 :: Helpful Hints
Be sure to allow the lamb to come to room temperature before roasting or the exterior will cook faster than the inside.
Step 5 :: Helpful Hints
Different ovens have different cooking times, so cooking time often vary. The size of the rack and the fat content will change the cooking time, as well.
All recipe ingredients should be cooked to a safe internal temperature according to USDA guidelines. After preparing a recipe, please store any leftovers in the refrigerator.