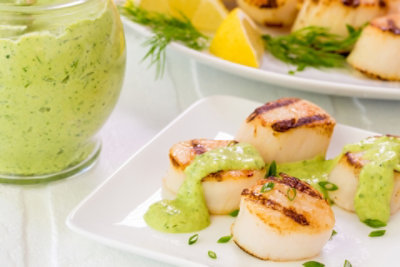 Grilled Shrimp & Scallops with Avocado Greek Yogurt Dressing
This refreshing grilling recipe is the perfect way to celebrate summer. Grilled Open Nature® shrimp and scallop skewers pair perfectly with an avocado Greek yogurt dressing for the ultimate seasonal entrée.
Total original price
* Estimated price based on adding all ingredients to cart.
Shrimp and Scallops
12 Open Nature® shrimp (defrosted)
12 Open Nature® scallops (defrosted)
3 tablespoons canola oil
2 pinches of kosher salt
2 pinches of black pepper
Avocado Sour Cream Dressing
2 avocados
1/4 cup Open Nature® Greek yogurt
2 tablespoons lemon juice
1/4 cup dill
1/4 cup chives
1 cup baby spinach
1 pinch kosher salt
1 pinch black pepper
Cooking Instructions
Step 1 :: Shrimp & Scallops
Prepare scallops: skewer 6 scallops on a skewer, insert second skewer to hold in place while grilling.
Step 2
Prepare the shrimp: skewer 6 shrimp per skewer, insert second skewer to hold in place while grilling.
Step 3
Prepare a grill to high heat, then clean grill surface and coat with non-stick spray/oil to prevent sticking.
Step 4
Dress shrimp and scallop skewers with canola oil, salt, and pepper. Place onto the grill.
Step 5
Grill for approximately 2-3 minutes per side.
Step 6 :: Avocado Greek Yogurt Dressing
Combine the ingredients in a blender, then process until smooth.
Step 7
If the dressing is too thick, add additional lemon juice or water to thin.
Step 8
Remove from blender and chill until ready to serve.
Step 9
To serve, spread onto a plate, placing the grilled scallops and shrimp onto the dressing.
Step 10
Serve with a summer vegetable salad, if desired.
All recipe ingredients should be cooked to a safe internal temperature according to USDA guidelines. After preparing a recipe, please store any leftovers in the refrigerator.