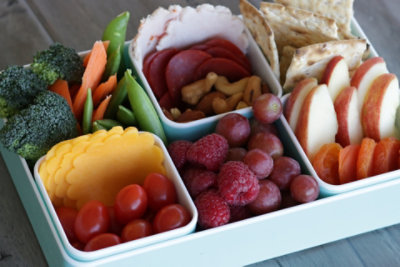 Kid-Friendly Charcuterie
A tray filled with an assortment of colorful, nutrition- and flavor-packed foods, screams "party in a lunchbox". Pack a customized kid-friendly charcuterie in your child's lunchbox by pairing meats, cheese, fruit and crackers for your kiddo to enjoy.
Total original price
* Estimated price based on adding all ingredients to cart.
Main Ingredients
¾ cup raw vegetables (choose from cherry or grape tomatoes, carrot or zucchini coins, broccoli or cauliflower florets, sugar snap peas, bell pepper strips, etc.)
¾ cup fruit pieces (choose from apple slices, grapes, berries, and dried fruit)
½ cup lean meat and/or cheese (choose from Signature Farms® turkey pepperoni, roasted turkey breast cut into circles or squares, cheese slices, etc.)
½ cup whole grain crackers, whole wheat bread slices cut into squares, or whole grain pretzel rods
OPTIONAL: 2 tablespoons approved nuts (such as cashews and almonds)
Cooking Instructions
Step 1
Create a kid-friendly charcuterie by placing the following items in a lunchbox or on a serving plate (if serving at a party): your choice of raw veggies, fruit, lean meat and/or cheese, whole grain crackers or similar, and nuts if desired.
Step 2
If part of a lunchbox, cover the tray well and keep cold with a reusable cold pack. If serving at a party, cover the plate well and keep refrigerated until needed.
All recipe ingredients should be cooked to a safe internal temperature according to USDA guidelines. After preparing a recipe, please store any leftovers in the refrigerator.