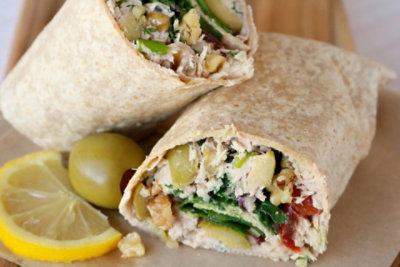 Lemon Walnut Tuna Wrap
Shake up the sandwich rut at lunch. You'll get a nice dose of omega-3s from the veggies and fish along with a serving of dark leafy greens! A creamy blend of olive oil, Greek yogurt and lemon create a healthy alternative to mayo and adds flavor.
Total original price
* Estimated price based on adding all ingredients to cart.
Main Ingredients
12 ounce can Signature Kitchens® albacore tuna in water (drained (or 2, 6-ounce pouches))
1/4 cup chopped green onions
3 Tbs loosely packed chopped fresh parsley
1/3 cup green olives ((pitted) quartered)
1/2 cup Signature Kitchens® walnut pieces
1/2 cup cherry or grape tomatoes (quartered)
2 Tbs O Organics® extra virgin olive oil
2 Tbs Open Nature® non-fat plain Greek yogurt
1/2 tsp lemon zest
2 Tbs lemon juice
1/4 tsp salt (optional)
1/4 tsp pepper (optional)
3 cups baby spinach, shredded kale, or power greens (pre-washed and ready to use)
3 whole wheat flour tortillas ((45-60 grams each), about 8-inches across)
Cooking Instructions
Step 1
In medium bowl, combine tuna, onion, parsley, olives, walnuts and cherry tomatoes, breaking up the tuna into smaller pieces with a fork.
Step 2
In small bowl, whisk together Greek yogurt, olive oil, yogurt, lemon zest, lemon juice, and salt and pepper (if desired). Pour into bowl with tuna mixture and toss to combine.
Step 3
Spread a third of the tuna mixture on top of each tortilla, leaving an inch of tortilla uncovered around the outside edge. Cover tuna mixture with a third of the mixed greens, kale or spinach.
Step 4
Wrap each up like a burrito, folding two ends in and then rolling the left side toward the right side. Cover each wrap in plastic wrap or foil and store in refrigerator until serving.
All recipe ingredients should be cooked to a safe internal temperature according to USDA guidelines. After preparing a recipe, please store any leftovers in the refrigerator.