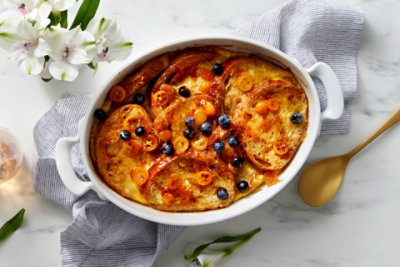 Overnight Crème BrûléeFrench Toast
We've lightened up this delightful French-inspired dish so you can enjoy it without feeling too guilty! It's still rich and delicious, and great to serve for a large brunch crowd because it's so easy to double or even triple the recipe. Prep it the night before and bake it in the morning.
Total original price
* Estimated price based on adding all ingredients to cart.
Main Ingredients
Canola oil cooking spray
3 tablespoons butter or low-trans margarine
5 tablespoons reduced-calorie pancake syrup (maple syrup can be substituted)
1/2 cup packed brown sugar
2 tablespoons Grand Marnier or other orange liqueur
9 slices whole wheat or whole grain sourdough or sandwich bread (1-inch thick slices)
3 large eggs
1/2 cup egg white or egg substitute
1 teaspoon vanilla extract
Fresh strawberries or other berries for garnish (optional)
1 1/2 cups fat-free half-and-half
Cooking Instructions
Step 1
Coat a 9 x 13-inch baking dish with cooking spray. Melt the butter or margarine in a small non-stick saucepan over medium heat. Mix in the pancake syrup, brown sugar and Grand Marnier, stirring until the sugar is dissolved. Pour the mixture into the prepared baking dish.
Step 2
Remove the crusts from the bread if desired and arrange the 1-inch thick slices in the baking dish in a single layer on top of the brown sugar mixture. (if the slices are 1/2-inch thick, add them in a double layer).
Step 3
In a small bowl, whisk together the half-and-half, eggs, egg substitute and vanilla. Pour the mixture evenly over the bread and gently press down on the bread if needed to help soak the bread.
Step 4
Cover well and chill in refrigerator for at least 8 hours or overnight.
Step 5
Preheat oven to 350-degrees and remove the dish from the refrigerator while oven is preheating. Coat the top of the casserole with cooking spray.
Step 6
Bake, uncovered, for 35 to 40 minutes, or until the bread is puffed and lightly browned. Serve the French toast bottom side up (the crème brûlée sauce will now be on top) with fresh fruit and a dollop of light whipped cream or a dusting of powdered sugar if desired.
All recipe ingredients should be cooked to a safe internal temperature according to USDA guidelines. After preparing a recipe, please store any leftovers in the refrigerator.