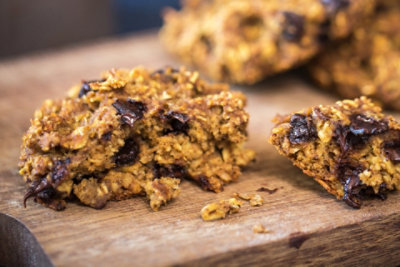 Pumpkin Chocolate Chip Muffin Tops
The top of the muffin is the best part, right? That may be arguable, but everyone will agree our Pumpkin Chocolate Chip Muffin Tops are hearty and delicious. Using just oats, bananas, pumpkin puree, honey and spices, they're rich and filling and healthier than other baked options.
Total original price
* Estimated price based on adding all ingredients to cart.
Main Ingredients
3 overly ripe bananas
1 cup pumpkin puree
2-3 teaspoons pumpkin pie spice or cinnamon
2 tablespoons raw honey
1/4 teaspoon kosher salt
1 1/2 teaspoons baking powder
2 1/2 cups oats
1/2 cup dark chocolate chips
Cooking Instructions
Step 1
Preheat oven to 350º. In a food processor, add bananas, and pumpkin, processing until smooth. 
Step 2
Add in spice, honey, salt, and baking powder, processing again until fully mixed. 
Step 3
Add 2 cups of oats. Pulse food processor 4-5 times. Remove processor tub and blade, and stir in the rest of the oats, and dark chocolate chips. 
Step 4
On a baking sheet lined with parchment paper, drop the batter by 1/4 - 1/3 cupsful, letting it heap up a bit so it looks like a muffin top. 
Step 5
Bake for 15 - 17 minutes, until fully cooked. Let cool & store in an airtight container. (These freeze easily too!) 
All recipe ingredients should be cooked to a safe internal temperature according to USDA guidelines. After preparing a recipe, please store any leftovers in the refrigerator.