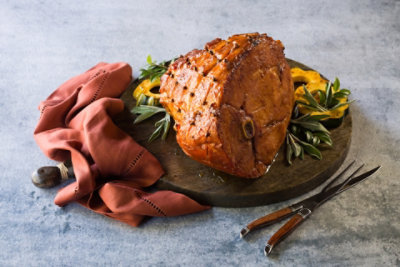 Pumpkin Spiced Holiday Ham
What better way to celebrate autumn than with pumpkin spice? Add festive fall flavors to your holiday ham for a sensational seasonal entrée that is sure to impress your holiday guests!
3 hour, 35 mins
Total cook time
Total original price
* Estimated price based on adding all ingredients to cart.
Main Ingredients
9-10 pound shank portion ham
whole cloves
1-2 cups water
1 cup pumpkin puree
3/4 cup pure maple syrup
1/4 cup apple cider vinegar
1 ½ teaspoons pumpkin pie spice
Cooking Instructions
Step 1
Preheat oven to 325°. Score the back side of the ham in a diamond pattern, cutting about 1/4-inch deep. Add whole cloves at each corner of the diamonds.
Step 2
Whisk to combine pumpkin puree, maple syrup, apple cider and pumpkin spice. Set aside.
Step 3
Place ham in roasting pan with 1/4-inch of water and tent with foil. Let heat for 2 ½ hours. Increase heat to 425°. Remove foil and brush glaze all over ham. If water has evaporated, add more. Repeat glazing every 10 minutes for 30-40 minutes.
Step 4
Remove from oven. Let rest 15 minutes, then carve and serve.
Step 5 :: Helpful Hints
Most hams are precooked, so when reheating, the temperature you are looking for is 135°.
Step 6
Substitute apple juice for the water for an even more flavorful ham.
All recipe ingredients should be cooked to a safe internal temperature according to USDA guidelines. After preparing a recipe, please store any leftovers in the refrigerator.