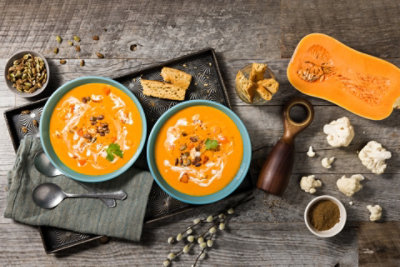 Curried Butternut Squash and Cauliflower Soup with Spiced Pumpkin Seeds
When it comes to fragrant coconut curry, we could easily enjoy a whole bowl of just the sauce. Chef Shanna makes our curry dreams come true with this warm-spiced butternut squash and cauliflower soup. You might want to hide the garam masala–toasted pumpkin seeds so they don't disappear before it's time to sprinkle them over and dig in.
Total original price
* Estimated price based on adding all ingredients to cart.
Main Ingredients
1 1/2 pounds butternut squash
1 1/2 pounds cauliflower florets
1/4 ounce cilantro
2 shallots
3 cloves garlic
27 ounces lite coconut milk
2 tablespoons vindaloo curry paste
1 cinnamon stick
1/4 cup pumpkin seeds
2 tablespoons sugar
2 teaspoons garam masala
1 vegetable bouillon cube
olive oil
kosher salt
black pepper
Cooking Instructions
Step 1
Preheat oven to 450ºF. Rinse all produce. Cut butternut squash cubes to .25-inch pieces, if needed. Cut cauliflower into 1 inch–wide florets, if needed. On a baking sheet, toss squash and cauliflower with 3 tablespoons olive oil, 1 teaspoon salt, and pepper as desired. Arrange in a single layer and roast until golden and tender, 20-22 minutes. Then, remove from oven and set aside to cool, 5 minutes.
Step 2
While vegetables roast, pick cilantro leaves and roughly chop stems, keeping separate. Peel shallots and mince. Mince garlic. Open coconut milk (see recipe tip); place 1 tablespoon in a small bowl for garnish, reserving remainder for Step 5.
Step 3
Heat 2.5 tablespoons olive oil in a large pot over medium-high heat. When oil is shimmering, add shallots, garlic, and cilantro stems and sauté, stirring occasionally, until fragrant, 1-2 minutes. Then, add curry paste and cinnamon stick and cook, stirring constantly to combine, 1 minute more. Remove pot from heat and set aside until Step 5.
Step 4
Heat a small nonstick pan over medium-high heat. Carefully hover your hand a few inches away—when you can easily feel heat, add pumpkin seeds. Toast, stirring, until golden, 2-3 minutes. Add sugar and cook, stirring frequently, until sugar begins to melt and cling to pumpkin seeds, 2-3 minutes. Add garam masala and cook, stirring vigorously, 1 minute more. Transfer to a plate, season with salt and pepper, and set aside.
Step 5
In a blender or food processor, combine vegetable bouillon cube, half of roasted vegetables, and 2.5 cups water and blend until smooth (see recipe tip). Add soup to pot with aromatics, along with remaining coconut milk (not 1 tablespoon reserved) and remaining roasted vegetables. Bring to a boil over high heat, then reduce to medium high and simmer until flavors have melded, 10 minutes. Remove pot from heat.
Step 6
Remove and discard cinnamon stick from pot with soup and season with 1 teaspoon salt and pepper as desired. Divide curried butternut squash and cauliflower soup among serving bowls. Drizzle over reserved coconut milk. Break spiced pumpkin seeds into bite-size pieces and sprinkle over bowls. Garnish with cliantro leaves and dig in!
All recipe ingredients should be cooked to a safe internal temperature according to USDA guidelines. After preparing a recipe, please store any leftovers in the refrigerator.