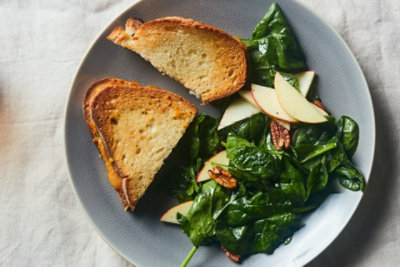 Pumpkin and White Cheddar Grilled Cheese with Apple, Pecan, and Spinach Salad
Pumpkin-spiced everything season is still upon us, so we couldn't resist using it in our favorite comfort food: the grilled cheese sandwich. We add pumpkin, sage, and white Cheddar to the filling for extra ooey gooeyness, then bake the sandwiches until melty and golden (a hands-off trick that saves time). An apple and spinach salad lightens up the finished plate.
Total original price
* Estimated price based on adding all ingredients to cart.
Main Ingredients
22 4/5 grams unsalted butter
1 Gala apple
1/8 ounce sage
2 cloves garlic
2 tablespoons chopped pecans
8 slices sourdough bread
1/4 teaspoon pumpkin pie spice
1/3 cup pumpkin purée
6 ounces shredded white Cheddar cheese
2 ounces grated Parmesan cheese
2 tablespoons white wine vinegar
9 ounces baby spinach
olive oil
kosher salt
black pepper
Cooking Instructions
Step 1
Preheat oven to 450ºF. Unwrap butter, place in a small bowl, and set aside to soften at room temperature. Rinse all produce. Slice off rounded sides of apple and thinly slice, discarding core. Thinly slice sage leaves, discarding stems (see recipe tip). Mince garlic. Place pecans on a small piece of foil. Bring edges of foil together and seal to form a pouch. Line a baking sheet with foil.
Step 2
Spread softened butter over 1 side of bread slices, then arrange butter-side up on prepared baking sheet. Add pecan pouch to sheet and bake until bread is lightly toasted, 2 minutes. Meanwhile, in a medium bowl, stir together pumpkin pie spice, pumpkin purée, white Cheddar, Parmesan, sage, garlic, .25 teaspoon salt, and pepper as desired to combine—this is a great task for a kitchen helper.
Step 3
Flip bread on baking sheet and spread pumpkin-Cheddar filling over plain sides of 4 bread slices. Return to oven (with pecans) and bake until cheese is melted and bread is golden, 2 minutes more (see recipe tip). Meanwhile, in a separate medium bowl, whisk together white wine vinegar, 2.5 tablespoons olive oil, .5 teaspoon salt, and pepper as desired (a helper can do this part). Add apple and toss to coat. Set aside for Step 5.
Step 4
Remove baking sheet from oven. Top pumpkin-Cheddar filling with remaining plain bread slices, butter-side up. Return to oven (with pecans) and bake until tops of sandwiches are golden and pecans are toasted and fragrant, 1-2 minutes more.
Step 5
While grilled cheese sandwiches bake, pat spinach dry with paper towel, add to bowl with apple and dressing, and toss to combine. Once toasted, carefully open pecan pouch. Add pecans to bowl with salad and toss to combine.
Step 6
Divide apple, pecan, and spinach salad among serving plates. Cut pumpkin and white Cheddar grilled cheese sandwiches in half on a diagonal and serve with salad. Dig in!
All recipe ingredients should be cooked to a safe internal temperature according to USDA guidelines. After preparing a recipe, please store any leftovers in the refrigerator.