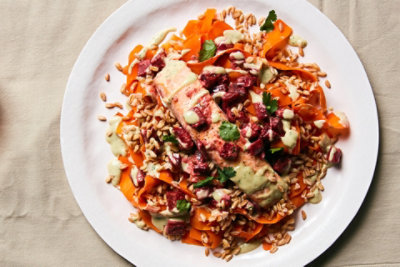 Roasted Salmon with Beets, Farro, and Cilantro-Tahini Dressing - Recipe by Plated
Chef Shanna's going for effortless elegance here, all the way down to the simple carrot ribbons stirred into the chewy farro (all you need for that is a helper who's good with a vegetable peeler—or some solid slicing skills). A green sauce of cilantro, garlic, and tahini brings the right amount of tang and aromatic flavor to rich roasted salmon and beets on top.
Total original price
* Estimated price based on adding all ingredients to cart.
Main Ingredients
12 ounces carrots
12 ounces red beets
1 1/4 pounds salmon
1/4 ounce cilantro
1 clove garlic
2 tablespoons white wine vinegar
3 tablespoons tahini
1 cup farro
olive oil
kosher salt
black pepper
Cooking Instructions
Step 1
Preheat oven to 425ºF. Bring a large, covered pot of water to a boil over high heat (the lid keeps it from evaporating before Step 5). Rinse all produce. Halve carrots lengthwise and arrange cut-side down; using a vegetable peeler, peel lengthwise into wide ribbons (see recipe tip). Peel beets; cut into .25-inch dice (see recipe tip). Line a baking sheet with foil; on 1 half, toss beets with 1 tablespoon olive oil, .75 teaspoon salt, and pepper.
Step 2
Roast beets until beginning to soften, about 8 minutes. Pat salmon dry with paper towel and arrange skin-side down on 1 half of prepared baking sheet. Season tops of fish with 1 teaspoon salt and pepper as desired; drizzle over 1 tablespoon olive oil and rub in seasoning. Roast until salmon is cooked through and opaque and beets are softened, 12-14 minutes.
Step 3
While beets and salmon roast, pick cilantro leaves, reserving stems. Using the flat side of a knife, gently crush garlic clove. Alternatively, if you don't have a blender or food processor for making the dressing, mince cilantro leaves and stems, keeping separate, and mince garlic as finely as possible. Then, you can whisk together all dressing ingredients in a medium bowl—it won't be as smooth, but it'll still be delicious.
Step 4
In a blender or food processor, combine white wine vinegar, tahini, cilantro stems, crushed garlic (raw garlic has a strong flavor, so feel free to use less), half of cilantro leaves, 3 tablespoons olive oil, and 2 tablespoons water. Pulse until smooth, then season with .5 teaspoon salt and pepper as desired. Tahini can thicken quickly; add more water 1 tablespoon at a time to loosen, if needed.
Step 5
Season boiling water generously with salt. Stir in farro and cook until beginning to soften, about 11 minutes. Then, add carrot ribbons and continue cooking until carrots are soft and farro is tender but still chewy, 1 minute more (if you prefer a more tender consistency for your farro, keep cooking a few minutes more). Drain farro and carrots.
Step 6
Divide farro and carrots among serving plates. Once cool enough to handle, remove and discard skin from salmon, then transfer to plates atop farro. On baking sheet, toss roasted beets with half of cilantro-tahini dressing to coat; transfer to plates with salmon. Drizzle over remaining dressing and garnish with cilantro leaves. Dig in!
All recipe ingredients should be cooked to a safe internal temperature according to USDA guidelines. After preparing a recipe, please store any leftovers in the refrigerator.