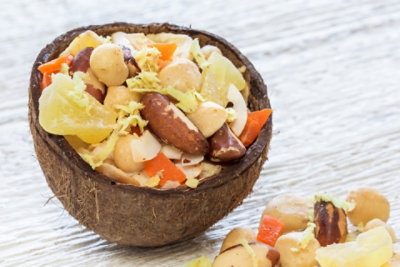 The Shoreline Seeker Trail Mix
The perfect tropical snack mix for a day at the beach or on your way to a warm destination! This mix has all our favorite nuts, coconut flakes and dried tropical fruit!
Total original price
* Estimated price based on adding all ingredients to cart.
Main Ingredients
1 cup macadamia nuts
1 cup brazilian nuts
1 cup dried coconut
1 cup dried pineapple
1/2 cup dried mango chunks
1 cup banana chips (smashed)
1-2 tablespoons pure maple syrup
1/2 teaspoon fresh grated ginger
1 tablespoon toasted sesame seeds
Cooking Instructions
Step 1
On a baking sheet, toast nuts at 400 degrees F for 6 minutes. Add dried coconut during the last two minutes. 
Step 2
In a small bowl, stir together maple syrup, ginger, and sesame seeds. 
Step 3
In a large bowl, stir together all ingredients. Fold in maple syrup mixture to coat. Spread mixture back out onto a baking sheet, and toast another 3 minutes. Remove and let cool. Store in an airtight container. Enjoy! 
All recipe ingredients should be cooked to a safe internal temperature according to USDA guidelines. After preparing a recipe, please store any leftovers in the refrigerator.