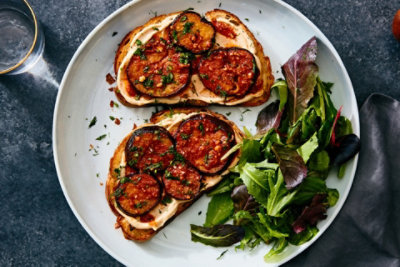 Crispy Eggplant Tartines with Harissa, Hummus, and Herb Salad
The tartine, basically an open-faced sandwich, is a brilliant piece of architecture: A sturdy slice of bread holds all the toppings in place, which can be piled even higher since there's no lid. Here, we're loading toasted sourdough with shallow-fried eggplant that's tossed in a smoky, spicy, harissa-laced sauce. The eggplant has that satisfying meaty texture we love, making the tartines feel even more substantial. You'll definitely want to go at this dish with a knife and fork. 
Total original price
* Estimated price based on adding all ingredients to cart.
Main Ingredients
2 eggplants
1/8 ounce cilantro
1/8 ounce parsley
1/8 ounce dill
1 lemon
5 cloves garlic
2 teaspoons harissa
1 1/2 tablespoons tomato paste
1 teaspoon ground cumin
3 tablespoons Champagne vinegar
8 slices sourdough bread
8 ounces mixed lettuces
5 ounces hummus
olive oil
kosher salt
black pepper
Cooking Instructions
Step 1
Preheat oven to 425°F. Rinse all produce. Cut eggplants crosswise into .5-inch rounds, discarding ends. Season all over with .5 teaspoon salt, then set aside until Step 3 (see recipe tip). Roughly chop cilantro and parsley leaves and stems. Roughly chop dill leaves, discarding stems. Halve lemon. Mince garlic. 
Step 2
In a small bowl, whisk together harissa (feel free to use less, but it's what gives the sauce its flavor), tomato paste, cumin, Champagne vinegar, half of garlic, 2 tablespoons water, .75 teaspoon salt, and pepper as desired to combine. Set aside until Step 5. 
Step 3
Drizzle 1 tablespoon olive oil over all bread slices, rub with remaining garlic, and sprinkle over .25 teaspoon salt. Arrange on a baking sheet and toast until lightly golden, 4-5 minutes. Meanwhile, in a medium bowl, whisk together juice of 1 lemon, 3 tablespoons olive oil, .5 teaspoon salt, and pepper as desired. Set aside.
Step 4
Pat eggplant dry with paper towel. Pour enough olive oil into a large high-sided pan to reach about .25 inch up sides of pan. Place over medium heat. When oil is shimmering, add 1 slice eggplant. If it sizzles immediately, keep going. If not, try again once the oil is hotter. Fry eggplant, turning occasionally and working in batches as needed, until golden and crisp on both sides, 5-8 minutes total. Using a slotted spoon, transfer eggplant to a paper towel–lined plate to drain.
Step 5
Remove pan from eggplant from heat and carefully discard olive oil (see recipe tip). Add harissa sauce to pan, still off heat (the sauce will bubble slightly since the pan is still hot, so stand back in case of splatters), then add eggplant and turn to coat. 
Step 6
Add mixed lettuces and half of herbs to bowl with dressing and toss to coat. Spread hummus over bread slices, then top with crispy eggplant, spooning over any remaining harissa sauce from pan. Garnish crispy eggplant tartines with remaining herbs. Serve with herb salad. Dig in! 
All recipe ingredients should be cooked to a safe internal temperature according to USDA guidelines. After preparing a recipe, please store any leftovers in the refrigerator.